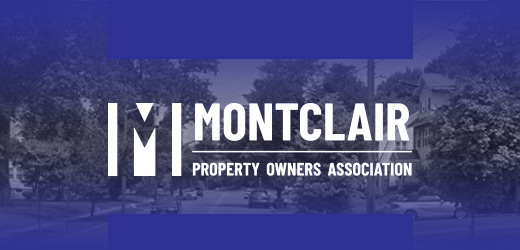 Say
NO to rent control

in Montclair, NJ

Sign

this

petition to place rent control on ballot
OPEN LETTER FROM MONTCLAIR PROPERTY OWNERS TO THE VOTERS
MONTCLAIR, N.J., September 24, 2020—The Montclair Property Owners Association [MPOA] filed its petition with the Town Clerk to put the Council's Rent Control Ordinance up for a referendum vote.
There has been much misinformation and misrepresentation of the facts spread by the Council surrounding this effort regarding the circumstances and motivation behind it.
MPOA would like to address your concerns and firmly state our position on the issue:
The MPOA was formed because elected officials in Montclair did not engage the public or property owners in passage of this ordinance. Pointing to private meetings among tenants and expressions at Council meetings of a need for rent control by a small group of tenants is not a replacement for substantive dialogue and belies the lack of process or policy development that has defined this situation;
The ordinance was developed in a "back-room" discussion and was never announced in compliance with regulations, which is before the Superior Court;
The Council ignored Governor Murphy's order to not pursue substantial policy directives during the COVID-19 State of Emergency;
We asked each member of the Council, including the Mayor, to engage in a dialogue with us about rent control. They refused, saying it was too late, when in actuality it was before the second reading when amendments are heard under Montclair's form of government;
At every step in the process we have attempted to obtain amendments to the Ordinance that might have been sufficient to avoid litigation and Referendum;
It was not our goal to obtain your contact information. The Superior Court ordered the Town to do so after the Council stonewalled our efforts to communicate the issue to you in a more reasonable way;
We were forced to litigate as a last resort because it was either that or accept the devastating fiscal impact that this ordinance would have on Montclair;
Montclair has voted on rent control before and every time it has failed to pass.
That the Council has failed to address inadequacies in the law itself that will render it unenforceable is inexcusable and leaves the tenants in the precarious position of losing rent control even if the Ballot Question fails;
We acknowledge that there were unconscionable rent increases for some tenants and expressed our commitment to work to prevent that in the future. We don't think rent control is the best solution, but most property owners live with rent control in other towns and it could work in Montclair, as well.  But this Ordinance is an inexcusably poorly conceived and crafted document that the tenants themselves should object to.
We also regret the division this has caused in Montclair. But the community would be 100% behind this referendum if they realized the ramifications of this ordinance – and the dangerous precedent it sets where your elected officials can pass any law they wish without the input of the public.
IMPORTANT INFORMATION FROM YOUR NEIGHBORS
Concerned Montclair residents have formed a Committee and are circulating a petition regarding the recently passed Rent Control Ordinance by the Town Council. You may have learned about this effort in the local media – many of these published statements written by local officials and their representatives are simply false.
We would like to directly address these statements so that you are rightfully informed and understand the whole truth.
This petition is vitally important to all township residents. Its only purpose is to place a referendum on the ballot in the upcoming election so you, the Montclair Voter, have the power to choose the future path of this great community.
We would have preferred to speak with you at your doorstep or on the street corner to have informative and cordial conversation. But due to the unforeseen circumstances surrounding the Covid-19 Pandemic and Governor Murphy's Emergency Orders – it has prevented from us doing so.
Realizing the issue of Rent Control could forever change the future of Montclair, we have come together to seek your support in the form of this online petition. A petition that would give voters the their constitutional right to decide on Rent Control – instead of placing it in the hands of an autocratic City Council that has pushed forward an agenda of a few on the many using the Covid-19 pandemic as cover.
It is most important to address the inaccurate information circulated by the Mayor about the petition itself.  Here is the one simple truth: signing this petition will only accomplish one thing – it will simply place a question on the ballot deciding if Montclair should have a rent control ordinance. It will give every single voter – not just self-interested politicians – the chance to express their will and exercise their constitutional right.
Whether you are in favor of rent control or against it, signing this petition will only put the question on ballot. This is about putting the future of your town into your hands.
This is called the power of referendum.  It is a right protected by our laws and the New Jersey State Constitution. 
Signing this petition gives every voter in Montclair a voice and a vote on what they believe is in the Township's best interests. As background, Rent Control has been considered several times over the years in Montclair. The issue was even considered by a vote of all the voters in town.  Each time it was roundly rejected by the residents. 
However, this time, in the middle of a deadly pandemic, the Town Council decided to press ahead and adopt a rent control ordinance. Without consulting, and even ignoring, those who would be most affected.
We cannot stress it enough: we need to get all voters in Montclair together and involved so that each of us can vote and be heard by City Hall.
We are standing firm to make our collective voices heard on this issue. We are more than disappointed that our elected officials are determined to deny you the right to vote. Why is the town so opposed to allowing you to make your opinion known and hearing your voice at the ballot box?  We do not know why.
Perhaps they are fearful you will learn things about rent control. Like the hundreds of thousands of dollars in administrative costs associated with the ordinance and how it will raise taxes on single family properties.
Perhaps they are fearful you will learn that most towns and voters in New Jersey reject rent controls because they do not create additional housing. In reality – rent control depresses the quality of existing rental properties wherever it is implemented. 
Regardless of the Mayor's motives, your voice and vote should be heard. The only way it will happen is by signing this online petition to get the question put on the ballot.
To address another issue raised by Montclair's Elected Officials:
We all can agree that privacy is important to everyone.  The Mayor has insinuated that we have violated your privacy because the court hearing our case ordered the Township to produce residents' email addresses. These addresses are used by the Township to send out public notices.  The statements by the Mayor are false for several reasons. 
First, we would have preferred that the township utilize the taxpayer funded messaging platform to inform you of our petition.  Specifically, we asked the town to post a short note on the website or in a newsletter along with a link to the petition.  We would not have needed, requested nor litigated the need for the list if they had done so. The township flatly refused our request. 
In our minds, the Township's website, funded with your tax dollars, is just like a bulletin board in City Hall. If the Township agreed to share our information, the process would have ended there.  But again, the Township refused.
So, we asked the court to order the Township to do one of two things:
Either post the notice on the website or turn over email addresses so we could send the communication ourselves.  The town opposed both requests – without any support or legal authority.  The court justified its decision by using the Constitutional Right of the Committee of Petitioners to gather signatures for the petition.
It ordered your Elected Officials to provide your email address with a very important limitation. Which is another thing that you may not been told about.  We can only send you two communications and cannot share your email information with anyone.  
It is our intention to destroy the information provided by the town when this is completed.
Support A Referendum On Rent Control in Montclair Because:
The Montclair Council passed Rent Control on the basis of requests from a few tenants without consulting with property owners and single family homeowners
When approached with reasonable amendments that would make the Ordinance equitable and functional, the Council candidates for Mayor refused to enter dialogue with Montclair business leaders and property owners
Rent Control will reduce the property taxes from Multi-Family owners, which will then be transferred to single family homeowners
Montclair would be required to start up an entirely new regulatory department which would incur legal fees, staffing costs and other expenses, which would increase taxes or take resources from other areas
The Rent Control Ordinance that was passed is sloppy and unenforceable
The Rent Control Ordinance would make property owners subject to criminal prosecution and jail sentences over maintenance and repair issues
Council should be compelled to hear all Montclair Voters on rent control. 
Sign our petition to stop rent control in Montclair

COMING SOON Press Coverage:

Rent Freeze is Retaliation
Frequently asked questions and answers about Rent Control in Montclair
Sign our petition to stop rent control in Montclair

COMING SOON Press Coverage:

Rent Freeze is Retaliation
Frequently asked questions and answers about Rent Control in Montclair
MONTCLAIR RENT CONTROL POLICY REVIEW
We remain dismayed that the Montclair Council actually voted to adopt a rent control ordinance. But Referendum is our opportunity to reverse their thoughtless action. We come to this moment out of frustration not only that the issue itself lacked sufficient debate and consideration, but because it was done in the shadow of the Pandemic:
the Governor's restriction on this very type of legislative activity;

the practical consequence of voters being denied their right to Referendum on the matter as a result of social distancing policies;

the fact that there was no effort to independently research the consequences of this Ordinance outside of the very narrow interactions with self-interested tenant group.
While there is a rightful concern over potential abuses by business owners during the pandemic to their economic advantage, there are criminal consequences to price gouging or other behavior in conflict with the governor's executive orders and there is no reason to expect anyone will risk ot – it would be the equivalent of speeding right in front of a school zone where a police officer is the crossing guard. The far greater danger is from politicians who have the power of government and are willing to use it to their political advantage. Sadly, that appears to be the case in Montclair where, the intransigence of certain council members political ambitions are clearly blinding them to the reality that the consideration and adoption of this ordinance now would be unwise.
The failure of the council goes beyond its ignorance of the environment, but of practical and legal issues in the proposed ordinance itself.
Vacancy Decontrol
An ordinance that permits Vacancy Decontrol on the unforced, voluntary vacating of an apartment does not impact a single resident of Montclair.  Instead, it utilizes the power of the market itself and the ability of a new tenant to seek an apartment that they can afford and to freely negotiate the rent for the space. This ordinance should allow vacancy decontrol.  Limiting vacancy decontrol to 10% as proposed will preclude the major improvements that now are a regular feature of apartment management programs in Montclair at the time of turnover.  This will inhibit property value, reducing assessments and tax collection from those buildings.  Many of whom show restraint in rent increases that we have demonstrated in the Affiliated Management portfolio, where over the last two years occupied apartments had an average increase of less than the ordinance has proposed.  That dynamic is not in the interest of any Montclair resident – it simply allows new people to move to Montclair and have the means and willingness to pay a market rent to either a) get a discounted rent or b) not be able to find the renovated apartment they want and move someplace else.  Each and every surrounding town:  Verona, West Caldwell, Bloomfield and Caldwell have unrestricted vacancy decontrol without any of the onerous registration requirements in the proposed ordinance.  Vacancy decontrol preserves the quality of housing over time and stabilizes the tax equity between income properties and homeowners.  An additional observation is the proposed $250 tax on each unit that implements vacancy decontrol.  This fee guts the financial benefit of decontrol and is counterproductive and disproportionate to any cost borne by Montclair to allow the marketplace to set the rent.
Conditions Governance and Certifications for Occupancy
New Jersey has the most thorough state tenant protections and property inspection programs in the United States.  Rent Control is consumer protection legislation and to connect conditions issues and habitability standards to rent control is not only redundant, it is unconstitutional.  Plus, there is no indication that in a general sense conditions are substandard in Montclair – if anything, Montclair's housing stock is among the best-maintained in New Jersey because the Buildings Department in Montclair already does an excellent job of enforcement.  By governing conditions in the ordinance, the Council contradicts itself by inherently recognizing that the ordinance will in fact result in limit revenue to apartments and in some cases will result in reduced quality.   That is the very reason a Council should not limit revenue and is not justification to create a complex set of new rules in anticipation of the negative impact that this ordinance will create.  Vacancy decontrol encourages landlords to maintain a building to the highest standards, which benefits all residents and the neighboring properties.  No single-family homeowners wants to see the deterioration of rental property.  Drive by the Midland, 480 Valley Road and Lord Essex on Clairmont Avenue.  These are a credit to the neighborhood.  These owned by people who are part of our group. 
Tax Equity
The Ordinance requires that the proceeds of a property owner's successful tax appeal be returned to the tenancy.  A consequence of this rent control ordinance will be to prompt tax appeals as landlords' revenues are reduced.  The tax appeal's very function is undermined by passing this benefit to the tenant, who has not suffered a reduction in service.  And, if the tax appeal is not provided to the landlord, it begets an appeal cycle because he is never made whole against the depressed value of his property.
Affidavits on Non-Coercion
There are no other examples of this anywhere in New Jersey.  Why?  Because no one can force a tenant to sign an affidavit and therefore this provision is illegal due to its unenforceability.  Property owners should have to prove their innocence in order to simply operate their business.  This Ordinance has several other features that create burdens for property owners and enforcement obligations to the town that invite mischief from tenants as well as unnecessary expense.  This ordinance will create an unsavory marketplace where tenants who make a decision to leave can hostage their affidavit for a payment from the landlord, knowing a landlord can achieve a higher return on investment from the next tenant.  The presence of these issues in the Ordinance is a demonstration that the Council has not only not heard from the multi-family operators in order to develop a balanced and informed position in rent control, but that the Council has not measured the consequences of the drafting of the law.
In Closing
To be clear, Montclair Property Owners Association recognizes that there is a standard for unconscionable rent increases in New Jersey and we regret that several non-members appear to have exceeded the reasonable and acceptable standards the vast majority of owners follows scrupulously. these actions of a few do not constitute a reason to adopt a rent control ordinance whose purpose is to punish all landlords, when most have been generally reasonable and whose practices have been beneficial to the community. The relatively rare illegal activity by owners is far more efficiently enforced by bringing cases against them without establishing an expensive and counter-beneficial bureaucracy of rent control.
More broadly, to go from no rent control to one of the most restrictive rent control in Essex County (with the potential exception of Newark) is in itself unconscionable and an out-of-proportion reaction.  This is CLEARLY an attempt to curry votes from a segment of the population so that two people gain a Mayoral talking point rather than a representation of the balance of property rights and tax fairness issues in Montclair.
This law clearly would be overturned by Referendum as it has been in the past in Montclair, and a Council vote at this time moots that process and as such discredits the work of its body as representative of the people.  Montclair should continue to stand as a beacon of people responsive government and not descend into the swamp of divisive partisan political expediency.  This is why our group built their business here, and we are not packing up and moving.