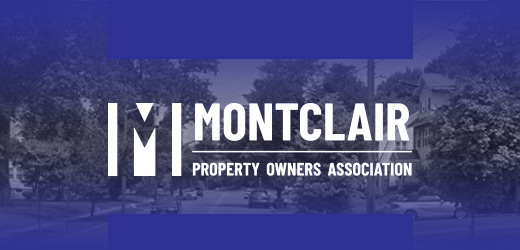 MONTCLAIR RENT CONTROL POLICY REVIEW
We remain dismayed that the Montclair Council actually voted to adopt a rent control ordinance. But Referendum is our opportunity to reverse their thoughtless action. We come to this moment out of frustration not only that the issue itself lacked sufficient debate and consideration, but because it was done in the shadow of the Pandemic:
the Governor's restriction on this very type of legislative activity;

the practical consequence of voters being denied their right to Referendum on the matter as a result of social distancing policies;

the fact that there was no effort to independently research the consequences of this Ordinance outside of the very narrow interactions with self-interested tenant group.
While there is a rightful concern over potential abuses by business owners during the pandemic to their economic advantage, there are criminal consequences to price gouging or other behavior in conflict with the governor's executive orders and there is no reason to expect anyone will risk ot – it would be the equivalent of speeding right in front of a school zone where a police officer is the crossing guard. The far greater danger is from politicians who have the power of government and are willing to use it to their political advantage. Sadly, that appears to be the case in Montclair where, the intransigence of certain council members political ambitions are clearly blinding them to the reality that the consideration and adoption of this ordinance now would be unwise.
The failure of the council goes beyond its ignorance of the environment, but of practical and legal issues in the proposed ordinance itself.
Vacancy Decontrol
An ordinance that permits Vacancy Decontrol on the unforced, voluntary vacating of an apartment does not impact a single resident of Montclair.  Instead, it utilizes the power of the market itself and the ability of a new tenant to seek an apartment that they can afford and to freely negotiate the rent for the space. This ordinance should allow vacancy decontrol.  Limiting vacancy decontrol to 10% as proposed will preclude the major improvements that now are a regular feature of apartment management programs in Montclair at the time of turnover.  This will inhibit property value, reducing assessments and tax collection from those buildings.  Many of whom show restraint in rent increases that we have demonstrated in the Affiliated Management portfolio, where over the last two years occupied apartments had an average increase of less than the ordinance has proposed.  That dynamic is not in the interest of any Montclair resident – it simply allows new people to move to Montclair and have the means and willingness to pay a market rent to either a) get a discounted rent or b) not be able to find the renovated apartment they want and move someplace else.  Each and every surrounding town:  Verona, West Caldwell, Bloomfield and Caldwell have unrestricted vacancy decontrol without any of the onerous registration requirements in the proposed ordinance.  Vacancy decontrol preserves the quality of housing over time and stabilizes the tax equity between income properties and homeowners.  An additional observation is the proposed $250 tax on each unit that implements vacancy decontrol.  This fee guts the financial benefit of decontrol and is counterproductive and disproportionate to any cost borne by Montclair to allow the marketplace to set the rent.
Conditions Governance and Certifications for Occupancy
New Jersey has the most thorough state tenant protections and property inspection programs in the United States.  Rent Control is consumer protection legislation and to connect conditions issues and habitability standards to rent control is not only redundant, it is unconstitutional.  Plus, there is no indication that in a general sense conditions are substandard in Montclair – if anything, Montclair's housing stock is among the best-maintained in New Jersey because the Buildings Department in Montclair already does an excellent job of enforcement.  By governing conditions in the ordinance, the Council contradicts itself by inherently recognizing that the ordinance will in fact result in limit revenue to apartments and in some cases will result in reduced quality.   That is the very reason a Council should not limit revenue and is not justification to create a complex set of new rules in anticipation of the negative impact that this ordinance will create.  Vacancy decontrol encourages landlords to maintain a building to the highest standards, which benefits all residents and the neighboring properties.  No single-family homeowners wants to see the deterioration of rental property.  Drive by the Midland, 480 Valley Road and Lord Essex on Clairmont Avenue.  These are a credit to the neighborhood.  These owned by people who are part of our group. 
Tax Equity
The Ordinance requires that the proceeds of a property owner's successful tax appeal be returned to the tenancy.  A consequence of this rent control ordinance will be to prompt tax appeals as landlords' revenues are reduced.  The tax appeal's very function is undermined by passing this benefit to the tenant, who has not suffered a reduction in service.  And, if the tax appeal is not provided to the landlord, it begets an appeal cycle because he is never made whole against the depressed value of his property.
Affidavits on Non-Coercion
There are no other examples of this anywhere in New Jersey.  Why?  Because no one can force a tenant to sign an affidavit and therefore this provision is illegal due to its unenforceability.  Property owners should have to prove their innocence in order to simply operate their business.  This Ordinance has several other features that create burdens for property owners and enforcement obligations to the town that invite mischief from tenants as well as unnecessary expense.  This ordinance will create an unsavory marketplace where tenants who make a decision to leave can hostage their affidavit for a payment from the landlord, knowing a landlord can achieve a higher return on investment from the next tenant.  The presence of these issues in the Ordinance is a demonstration that the Council has not only not heard from the multi-family operators in order to develop a balanced and informed position in rent control, but that the Council has not measured the consequences of the drafting of the law.
In Closing
To be clear, Montclair Property Owners Association recognizes that there is a standard for unconscionable rent increases in New Jersey and we regret that several non-members appear to have exceeded the reasonable and acceptable standards the vast majority of owners follows scrupulously. these actions of a few do not constitute a reason to adopt a rent control ordinance whose purpose is to punish all landlords, when most have been generally reasonable and whose practices have been beneficial to the community. The relatively rare illegal activity by owners is far more efficiently enforced by bringing cases against them without establishing an expensive and counter-beneficial bureaucracy of rent control.
More broadly, to go from no rent control to one of the most restrictive rent control in Essex County (with the potential exception of Newark) is in itself unconscionable and an out-of-proportion reaction.  This is CLEARLY an attempt to curry votes from a segment of the population so that two people gain a Mayoral talking point rather than a representation of the balance of property rights and tax fairness issues in Montclair.
This law clearly would be overturned by Referendum as it has been in the past in Montclair, and a Council vote at this time moots that process and as such discredits the work of its body as representative of the people.  Montclair should continue to stand as a beacon of people responsive government and not descend into the swamp of divisive partisan political expediency.  This is why our group built their business here, and we are not packing up and moving.